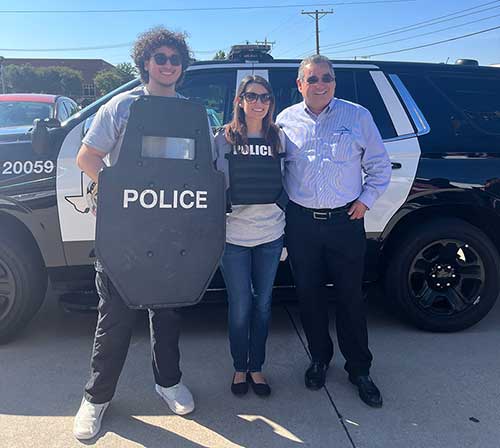 Natural Stone Designs was one of the sponsors at this year's National Night Out in Carrollton, Texas, a significant annual community-building event that aims to foster police-community partnerships and neighborhood camaraderie. This event is part of a nationwide initiative that promotes safety and crime prevention within communities.
In 2023, the citizens of Carrollton came together on the first Tuesday of October for National Night Out. Neighborhoods, homeowners associations (HOAs), and apartment complexes across the city organized block parties to celebrate the event.
One notable event was hosted at the Natural Stone Designs' location, which took place on Tuesday, October 3, 2023, at 2400 Tarpley Road in Carrollton, TX . This gathering was just one of many that occurred across Carrollton.
The Carrollton Police Department played a significant role in these celebrations. They used their social media platforms to remind residents about the event and to encourage participation. The police department's involvement in National Night Out is a testament to its commitment to building stronger relationships with the community.
Another notable event was the 28th Annual NNO Golf Tournament, which took place on Friday, August 4, 2023, at the Cowboys Golf Club. This event served as a precursor to the main National Night Out celebration, further highlighting the importance of community involvement in crime prevention.
Overall, National Night Out in Carrollton, Texas, is more than just a single night of activities. It represents a concerted effort by law enforcement and community members to work together, fostering a sense of unity and safety in the city.
The main goal of this event is to strengthen relationships between neighbors and local law enforcement agencies, which is seen as a crucial step towards building safer communities.
During National Night Out, citizens and law enforcement officers come together to take a stand against crime. It's a chance for community members to learn more about crime prevention and drug awareness programs, and for law enforcement agencies to showcase their efforts in these areas.
Thank you, Carrollton Police Department, for coming to our event!