Meet the CEO of Natural Stone Designs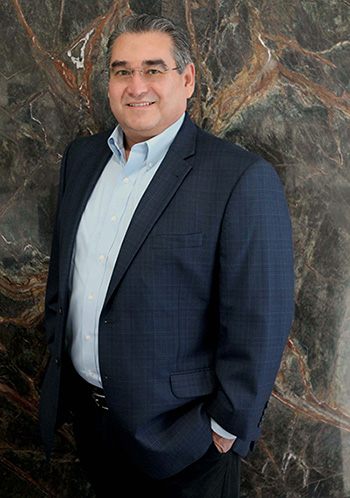 Jose Rodriquez, CEO of Natural Stone Designs
Jose Rodriguez, CEO of TDMG Commercial Division and DBA Natural Stone Designs is a self-made businessman. After completing his bachelor's degree in Engineering and Technology, he had an eye for design and fully emerged himself in the marble and granite world in the 1990s.
His expertise in the industry has made him a leader in the field in the Dallas – Fort Worth area. In fact, in 2003 he was named "Businessman of the year" and received "The National Leadership Award". Over the years he has received many awards and has been a member of several associations like the "Marble Institute of America/ Natural Stone Institute", the "Hispanic Contractors Associations", The "National Association of the remodeling industry," and the "Homebuilders Association", among others. He is seen as an expert in this industry and has participated as a speaker at various conventions.
Jose also attended the Harvard School of Business in where he was part of the program "Leadership & Entrepreneurship". Jose has been involved in the design, fabrication, and installation of many landmarks and high-end residential jobs; as well as aircraft interiors. Jose's dream of creating luxury aircraft interior pieces started when he received his pilot license at eighteen and his dream came true years later.
Jose's newest venture is creating homogenous stone surfaces which are also known as cabinet cladding. He is currently motivated to find ways to create beautiful pieces of art by installing exceptional materials on vertical surfaces in homes. Jose has prided himself on having one of the most innovative businesses in the stone industry.