Remnant Stone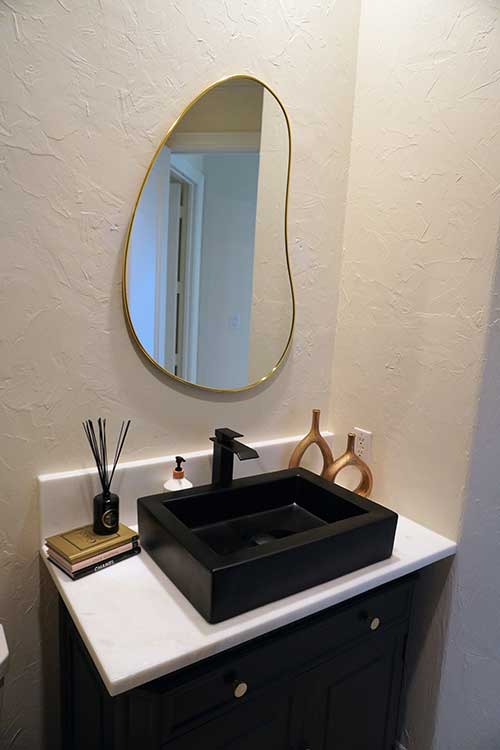 Many of our projects leave us with remnants of beautiful and unique stones. Because they are high in quality, we offer them to our clients for small projects around their homes or office. These remnant pieces of unique stones can be used to create beautiful and functional works of art.
Our team is committed to utilizing remnant stones to maximize their potential while offering the most value possible. We work with our clients to provide innovative solutions that make use of remnant pieces, enabling our clients to enjoy their projects even more. For example, we have created powder bath vanity tops, coffee tables, side tables, night tables, patio tables, serving bars, integrated sinks, backsplashes, cutting boards, etc. The sky is the limit. With this approach, we strive to ensure that each remnant piece has been put to good use before it leaves our facility.
These remnants include materials such as Marble, Granite, Quartzite, Sodalite, Limestone, Travertine, Soapstone, Semi Precious, Engineered Stones, Quartz, Porcelain, Neolith, Dekton, and many more.
If you're looking for an efficient way to utilize your remnant stone, we can help you. We would love to discuss your needs.
With our remnant stone solutions, you can expect the following:
– High-quality products and services
– Creative and innovative ideas to maximize the potential of remnant stone pieces
– Professional guidance throughout the process
– Affordable options tailored to your budget.
When you use a beautiful remnant piece, you can invest the savings into a higher-quality Sink, Faucets, or light fixtures. At Natural Stone Designs, we believe in making the most of remnant stones.
Contact us today to learn more about our remnant pieces and find the perfect solution.